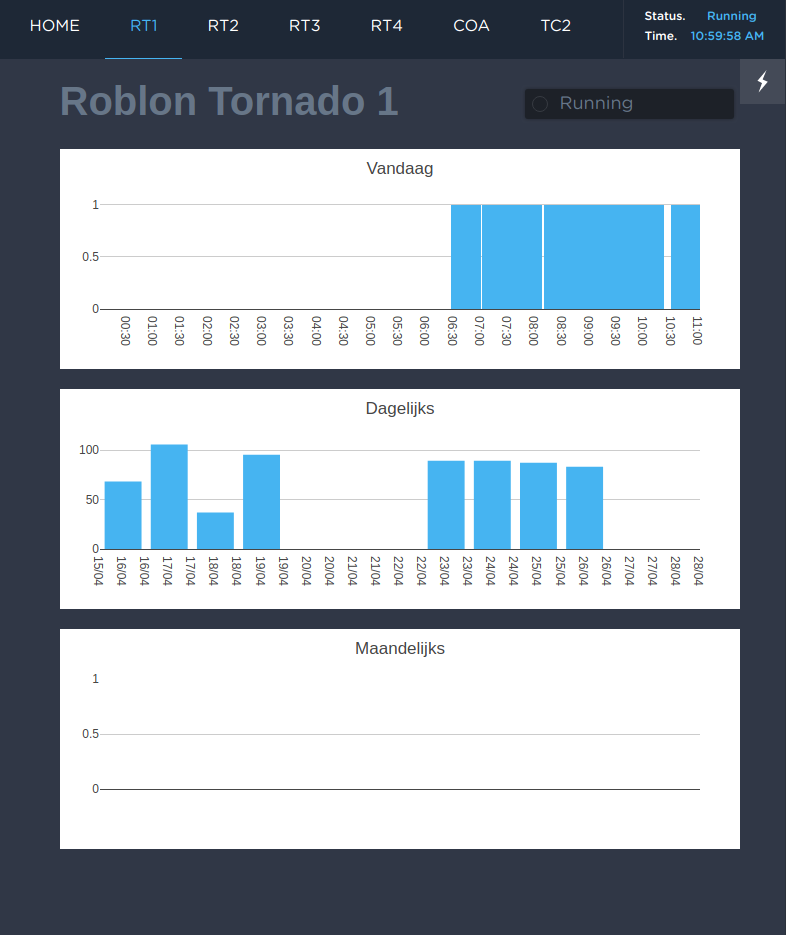 Ingenious machine monitoring kit
Vectioneer, specialized in the design and implementation of advanced machine controls and machine monitoring systems, has developed a monitoring kit for EuroFibers. The ingenious system displays both live data and historical data via the browser and can also be viewed from your phone with a special app. As a result, EuroFibers is now able to see at a glance what the current state of production is, but is also able to map the efficiency of production over longer periods and ultimately to improve production presentations. The kit is also easy to expand in order to collect even more data or to be able to monitor more machines. The development of this innovation is partly financed by the LIOF, a regional development and investment company in Maastricht.
The monitoring system is made up of industrial components that can also be maintained over many years. The data can be updated at a resolution of 1,000 times per second, making it possible to also measure high-frequency effects in the machine. Moreover, the data can be stored in different formats so that it can later also be processed in other tools.
The monitoring kit, which can be shown on a large screen in the production hall, provides answers to questions such as "What percentage of the time is the machine actually in production?" and "What is the average changeover time between batches?".
Marcel Alberts, General Manager of EuroFibers, says: "Not only can we use this system to monitor what is happening in production, but it also helps us to test hypotheses and reduce discussions. After all, measuring is knowing. Finally, the system has the effect of creating a certain competition between the operators, which has a positive effect on the production result. "
Vectioneer is developer and producer of advanced machine controls and machine monitoring systems. Generating accurate data from machines is important to demonstrate efficiency in a production environment. Through this development Vectioneer now also provides monitoring kits for other companies that can be installed on any machine. For more information, visit vectioneer.com
More information?
Please contact Marcel Alberts.
The combination creates an unparalleled portfolio of high-tenacity yarns, renowned high-performance fibers, fiber processing capabilities and a global distribution network. Leading fiber companies Lumat Group (Lumat), Dominion Fiber Technologies (DFT) and EuroFibers,...
Want to know more about our products?